Hygiene- and disinfectant products for your brand
Hygiene & disinfection

Sustainability and quality in focus
Hygiene- and disinfectants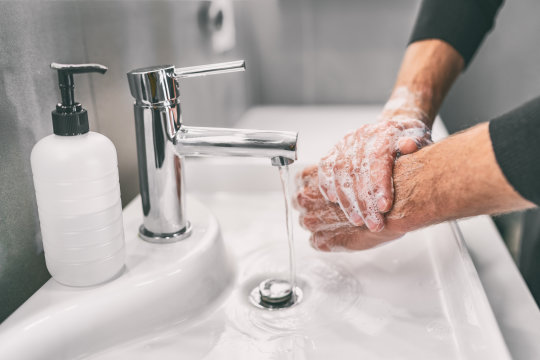 Hygiene and disinfection for brands with high demands!
In times when hygiene has become an important factor in both our everyday lives and in all parts of society, products that can give us this are sought after. Paragon Nordic has the opportunity to develop and produce cleansing and disinfecting products for both skin and surfaces in a variety of formats and packaging formats. In dialogue with you, we find the right product for your brand, your target groups and timelines. Some examples of products we develop and produce for our customers are:
- Hand disinfection - spray
- Hand disinfection - gel
- Foaming hand disinfection (spray)
- Alcohol-based cleansing gel with or without perfume (cosmetic product)
- Alcohol-based cleaning mousse (cosmetic product)
- Soap

- Spray surface disinfection
- Surface disinfection on trigger spray
- Surface disinfection jerry can

We have 60 years of experience, long supplier relationships and production in Sweden, Norway and Lithuania. Buying from us is thus safe and secure and we supply your brand with high quality products.Contact us to know more!
Quality and environmental care
The environment and quality are important criteria in the choice of products. Therefore experts on environmental legislation, quality and purchasing are integrated in our teams. Together we not only ensure that your product meets applicable requirements and legislations but also try to exceed them. Read more about our services here!
Hand disinfection - spray, gel or foam
Hand disinfection is a product that is available in several formats and packaging formats and thus also easy to adapt to different target groups. We can offer a number of alternatives, including spray and gel.
Spray
Spray disinfection is a popular product for those who want a product that is easy to take with them and use when on the go. It may be professionals in the industry where water supply is limited or private individuals who want a product in their handbag or inner pocket to use in everyday life.
Gel
The gel format is popular when it comes to disinfectant products. It can have a natural place on the sink or in venues where there is a need for easy and quick cleaning of hands.
Foaming spray
The foamy spray format is new and exciting and can give you a product that is more uncommon on the market, but with the same benefits as the classic disinfectant spray.
Alcohol based cleansing mousse or gel
Do you want to offer an alcohol-based cleaning product in gel form with a specific color or scent? Or maybe in mousse format? Both formats are appreciated and well known in the market as efficient and easy-to-apply formats.
We offer cleaning alcohol-based products where you can adapt the product's properties to your target group. The product is marketed with cleaning properties and is classified as a cosmetic product as opposed to a disinfectant product.
Contact us to find out more about how we can create your unique product!
Soap
Soap is one of the products everyone uses daily. Paragon Nordic can offer liquid soap in various packaging options and frothy shower soap on a bag-on-valve. We help you develop a soap that suits your brand and target group based on your wishes.
Do you want to know more?
Contact us
---
Please contact one of our Account Managers to find out more about how we can develop and produce your next product together. Find them HERE.