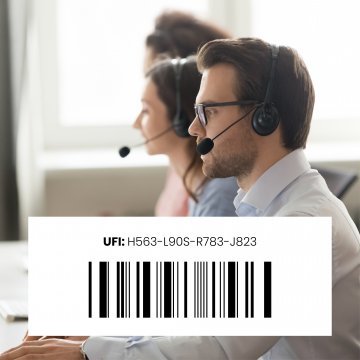 UFI codes and registration with Poison Information Centers
Does not apply to cosmetic products.
January 1, 2021, has passed, and thus also the introduction of the requirement to notify products to ECHA and further to relevant authorities that handle information for medical advice in emergencies, so-called Poison Information Centers.
According to the CLP Regulation, Paragon Nordic must register all products covered by the Regulation. This regardless of whether you as a distributor also choose to make an optional registration. As our client, you do not need to make your notification, provided that we have received information about where and how the product in question has been placed on the market.
UFI codes
For each registration Paragon Nordic performs, a unique UFI code is generated which must be placed on the decor of your product. If you choose to make your own registration, the generated UFI code must be the one placed on the end product. In your registration, you must then refer to the UFI code you have received from Paragon Nordic.
Your product's UFI-code is found in the SDS document generated by Paragon Nordic.
As the product's distributor, you are responsible for the decor, and with this is also the placement of the correct UFI code. We inspect all decor artworks Paragon Nordic is responsible for purchasing before they are approved for printing and production.
Decors of existing products created before this legal requirement and that do not have a UFI code must therefore be updated before the next production round to ensure that the UFI code is part of the artwork.
All UFI codes generated by Paragon Nordic are hidden, meaning they cannot be traced back to Paragon Nordic's VAT number.